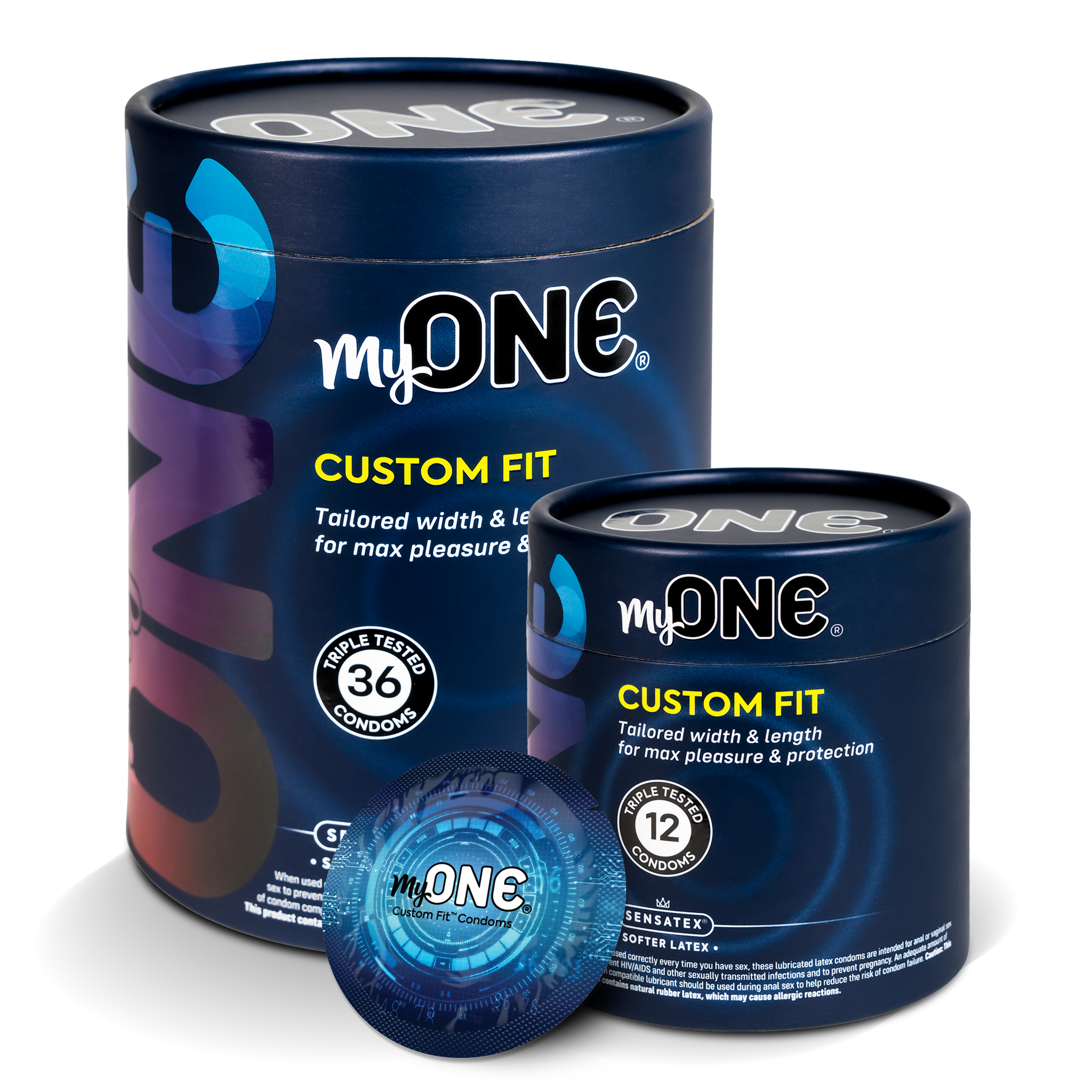 My

ONE® SIZE 47D MY CUSTOM FIT® CONDOM (FORMERLY B66)

MyONE® Size B66 Custom Fit Condom

is rated out of

5

by

86

.
Product Details
✓ 10 lengths and 9 widths = one perfect fit for you.

✓ Made with advanced Sensatex® softer latex. Hyperthin & extra lubricated.

✓ Triple Tested. Reservoir tip.

✓ Free USA shipping.

✓ One-time purchase or subscribe & save.
✓ First-time customer? Find Your Fit (MyONE FitCode), and then follow the prompts to get a sample kit so you can confirm your size before you buy.
✓ We recently updated our FitCodes. Learn more.
Think all condoms are the same? Think again.
We spend every day trying to make condoms better.
Hundreds of Designs
MyONE® condoms feature a variety of wrapper designs.
Unique Latex Formula
Sensatex™ is softer than other forms of latex. Softer latex stretches and moves with the body, for a smoother and more comfortable experience.
Advanced Quality Testing
Every myONE® condom is electronically tested for safety, and every batch is vigorously tested to surpass the highest worldwide testing standards.
Rated

4

out of

5
by
Trevor
from
MyONE Perfect Fit Condoms are the best fitting condoms I've ever used. Perfect length and girth. They don't slip off and bunch up like normal condoms do on me. The only reason I'd be hesitant to recommend these condoms is that there is nothing really "sexy" or "cool" about having to order custom condoms. Especially if you have to order them because normal condoms are too small for you. If someone mentions to me that they have a problem with the fit of normal condoms, it's definitely recommend them. But I don't think that I would openly suggest these to people unless they mentioned their problem first. These are great condoms and they truly are a perfect fit. But I'm still a little embarrassed about having to order custom condoms.
Date published: 2018-08-25
Rated

5

out of

5
by
Tony
from
I've been wondering about this condom size thing for years. It just never made since, because I knew everyone wasn't the same size. I was always trying to get a smaller condom in the pharmacy...and that's not something I was going to ask the pharmacist. The next time I'm going to get the next size up in length. When left a little on the end for the fluid I could used just a little more. Girth was spot on. Thanks
Date published: 2018-06-07
Rated

5

out of

5
by
everett
from
im sixty,with 4 inch girth and five inch length....and this recent purchase gave me the first condom in my life to fit me properly and not leave me stressing about it slipping off or the embarrassment...please dont stop making these smaller condoms...its a game changer...thank you !
Date published: 2018-10-01
Rated

4

out of

5
by
Justin
from
I appreciate the innovative approach, and my wife actually likes how they feel. Having the best fit really does make a difference!
Date published: 2017-11-20
Rated

5

out of

5
by
F
from
My girlfriend and I really enjoyed these condoms. We've had a experience with these condoms and would definitely recommend them.
Date published: 2018-08-06
Rated

5

out of

5
by
Daniel
from
I didn't realize that custom-fit condoms were a thing. I was lucky enough to try 'em out (high five) and they felt so good I literally forgot I was wearing one.
Date published: 2018-02-07
Rated

4

out of

5
by
Justin
from
Fits correctly and allows me to have more sensation during sex. Would give a 10 if there was a non-latex option.
Date published: 2018-11-13
Rated

5

out of

5
by
PeanutButterJellyTime
from
Best Condom yet!
My husband and I have had problems finding condoms that feel good for both of us. This product has helped us find the right size. Condoms requently broke because they were the wrong fit.
Date published: 2019-07-25