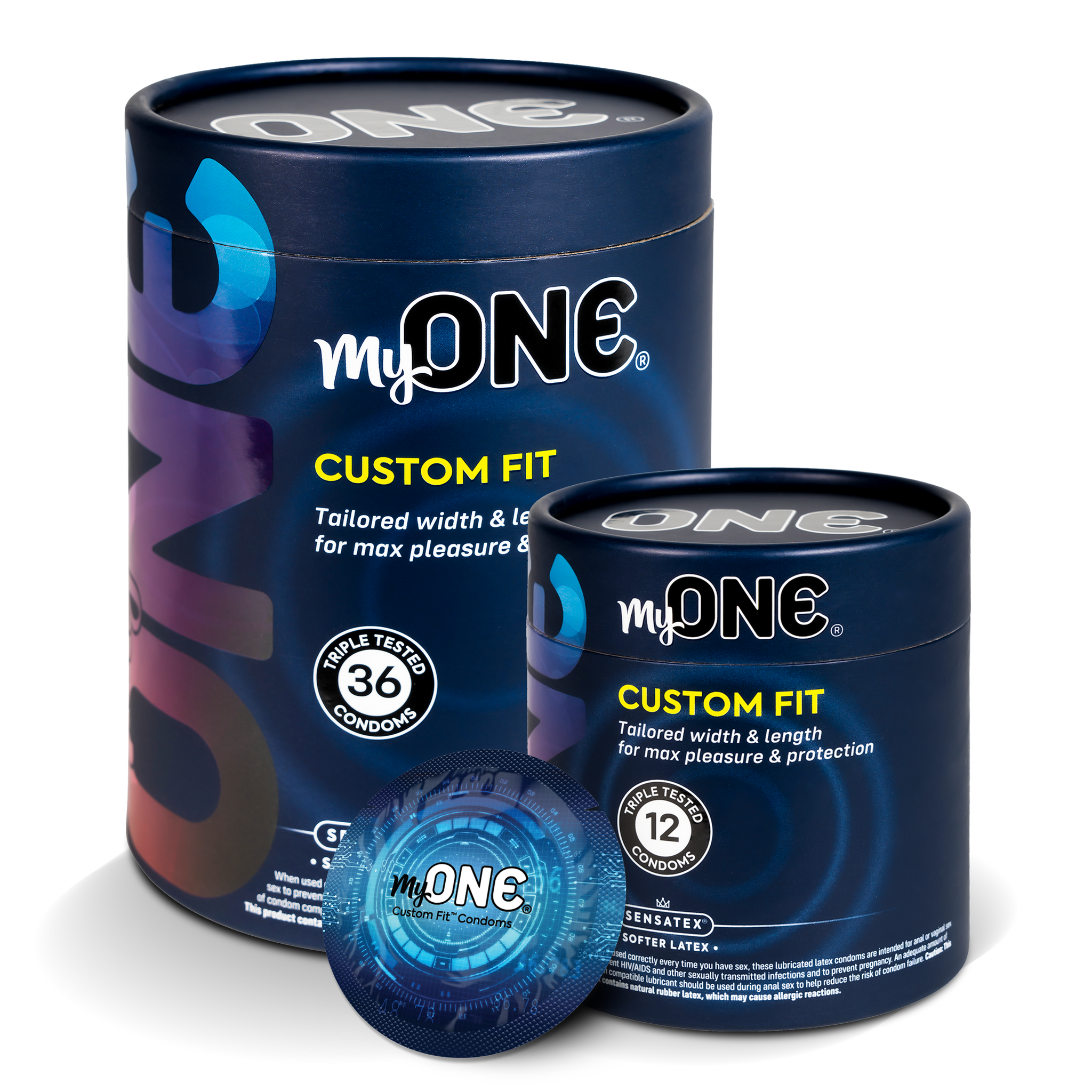 My

ONE® SIZE 49G MY CUSTOM FIT® CONDOM (FORMERLY O77)

MyONE® Size O77 Custom Fit Condoms

is rated out of

5

by

63

.
Product Details
✓ 10 lengths and 9 widths = one perfect fit for you.

✓ Made with advanced Sensatex® softer latex. Hyperthin & extra lubricated.

✓ Triple Tested. Reservoir tip.

✓ Free USA shipping.

✓ One-time purchase or subscribe & save.
✓ First-time customer? Find Your Fit (MyONE FitCode), and then follow the prompts to get a sample kit so you can confirm your size before you buy.
✓ We recently updated our FitCodes. Learn more.
Think all condoms are the same? Think again.
We spend every day trying to make condoms better.
Hundreds of Designs
MyONE® condoms feature a variety of wrapper designs.
Unique Latex Formula
Sensatex™ is softer than other forms of latex. Softer latex stretches and moves with the body, for a smoother and more comfortable experience.
Advanced Quality Testing
Every myONE® condom is electronically tested for safety, and every batch is vigorously tested to surpass the highest worldwide testing standards.
Rated

2

out of

5
by
James
from
This has nothing to do with the quality of the product. I just don't generally talk openly about buying condoms with friends. But I would like to say the packaging the 24 pack came in seems very wasteful. It's 4 separate boxes, all of which seem unnecessarily large, making it somewhat difficult to store conveniently and discreetly.
Date published: 2018-11-11
Rated

5

out of

5
by
zzzzzz
from
Very Happy with Them
My wife and I decided to not have any more kids, but it will be a few months at least before I get a vasectomy and she did not want to go on birth control, so condoms it is. I never liked condoms, like most guys. These sized condoms are pretty nice, and fit very well. They feel skin tight, and definitely don't come off.
Date published: 2020-08-10
Rated

3

out of

5
by
Derek
from
I'm not likely to discuss this with other people. Great idea and great products, but word of mouth is not the best way to advertise. Also, please consider a non-lubricated alternative as I prefer no lubrication and to use my own pre-cum as a lubricant--it helps make the fun last longer!
Date published: 2018-08-03
Rated

5

out of

5
by
ahnulus
from
Best fit ever
I really don't know how I got on before I got these condoms. Regular condoms always fit me ok but never great, and I just thought that was how it was. But when I used these condoms for the first time, I realized this is how condoms are supposed to fit and my world is not the same since.
Date published: 2019-12-29
Rated

1

out of

5
by
wesmcsm
from
Didn't fit
I intentionally picked the same "girth" measurement as a trojan magnum because those fit me great girth-wise, and the condoms were nowhere near the same size. Felt like I was trying on a standard smaller condom.
Date published: 2019-05-24
Rated

5

out of

5
by
Anonymous
from
I never felt confident using condoms because they were either too tight, making them easy to break, or too loose and easy to slip off. I now feel confident using them as my primary method of birth control.
Date published: 2017-08-20
Rated

4

out of

5
by
Nick
from
The fit was excellent but the condoms lacked elements of other brands/varieties such as ribbed outside
Date published: 2017-11-24
Rated

5

out of

5
by
Stephan
from
Because it's time to be safe and with one condoms you can be safe with your size finally
Date published: 2018-01-20