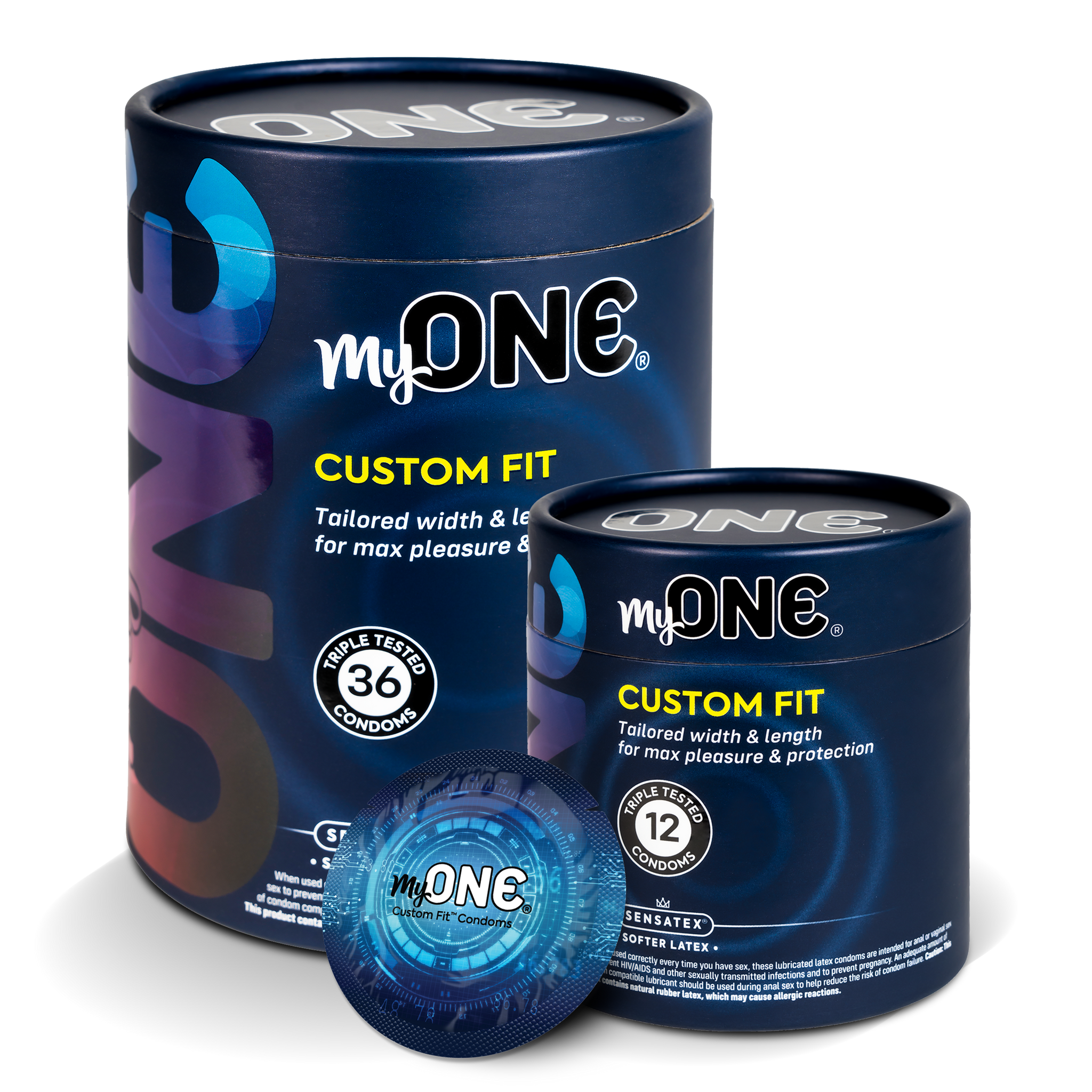 My

ONE® SIZE 53H MY CUSTOM FIT® CONDOM (FORMERLY N99)

MyONE® Size N99 Custom Fit Condoms

is rated out of

5

by

88

.
Product Details
✓ 10 lengths and 9 widths = one perfect fit for you.

✓ Made with advanced Sensatex® softer latex. Hyperthin & extra lubricated.

✓ Triple Tested. Reservoir tip.

✓ Free USA shipping.

✓ One-time purchase or subscribe & save.
✓ First-time customer? Find Your Fit (MyONE FitCode), and then follow the prompts to get a sample kit so you can confirm your size before you buy.
✓ We recently updated our FitCodes. Learn more.
Think all condoms are the same? Think again.
We spend every day trying to make condoms better.
Hundreds of Designs
MyONE® condoms feature a variety of wrapper designs.
Unique Latex Formula
Sensatex™ is softer than other forms of latex. Softer latex stretches and moves with the body, for a smoother and more comfortable experience.
Advanced Quality Testing
Every myONE® condom is electronically tested for safety, and every batch is vigorously tested to surpass the highest worldwide testing standards.
Rated

5

out of

5
by
Anthony Pook
from
Great product, novel and a lot of fun to try with my husband. Only downside was that we felt they werent as lubricated as regular condoms.
Date published: 2017-11-24
Rated

5

out of

5
by
DP86
from
Fits!!!
This has been my third purchase from myone...hands down the best. Perhaps not the "best" of materials (not lambskin or ultra thin) but the fit is what sets these apart. I never thought I could orgasm (or give one) with a condom. These are not just rubbers from the store, they will help you achieve full erection and sustain. Thank you!!!
Date published: 2019-07-09
Rated

5

out of

5
by
Aliyah
from
I LOOOVE how your brand of condoms are actually snug on the shaft unlike other brands and my boyfriend is able to get the packages open easily because of the preferations. But I love how these custom ones don't have all that extra material at the base.
Date published: 2018-01-16
Rated

5

out of

5
by
Fells
from
Perfect fit! Finally!!
Very happy with my purchase. Nice fit with no worries of falling off. Not tight at all, but a nice snug fit. No more baggy condems bunching up!!
Date published: 2020-01-27
Rated

4

out of

5
by
Kyle
from
They offer decent pricing and the condoms fit well. They have more of a latex smell than some others though
Date published: 2018-11-16
Rated

2

out of

5
by
Justin
from
1)Didn't like the feel of the condom (thicker then what I prefer). 2) No half size differences between the condom sizes I.E. shoe sizes, like going from a 9 to a 10...there should be half size options to make a better decision amongst the size variation. 3) When measuring for length, the instructions did not recommend I account for foreskin which made the length shorter and gave me a feeling of uncertainty. 4) Because I'm a little sensitive about my "unit" and because I live in a society where bigger is supposedly better, I don't know if having numbers to depict condom size is a good idea. Let's say I like the fit of the n88 versus the n99 (which I didn't)...If your a higher or lower number than what you expected then it might be an emotional drag. It's like taking a test, u expect a 99 but get an 11 for being more...or if you get an 88 when you were so positive you were a 99. Catch my drift. Sorry for judging your hard work. I do appreciate the attempt of customization and it is another reason I came back to the ONE condom brand for this trial.
Date published: 2018-04-12
Rated

5

out of

5
by
SirVoyeur42
from
Like a glove
Exactly what I hoped for in a specially sized condom - snug without being tight. Also well lubed and has an inoffensive smell. And they're easy to open so I'm not fussing with a stupid wrapper where I should be otherwise engaged. I think I like these even more than the hyper thin ones.
Date published: 2020-03-02
Rated

5

out of

5
by
Diesel
from
Great Product
I recently started sizing and trying the sampler packs. The staff is always prompt and very helpful. My size is D11 and to get tighter I'll use N11 but normally D11 is my go to! I use to use Magnums and XL condoms but these are a little thicker as well. But good product.
Date published: 2020-01-02