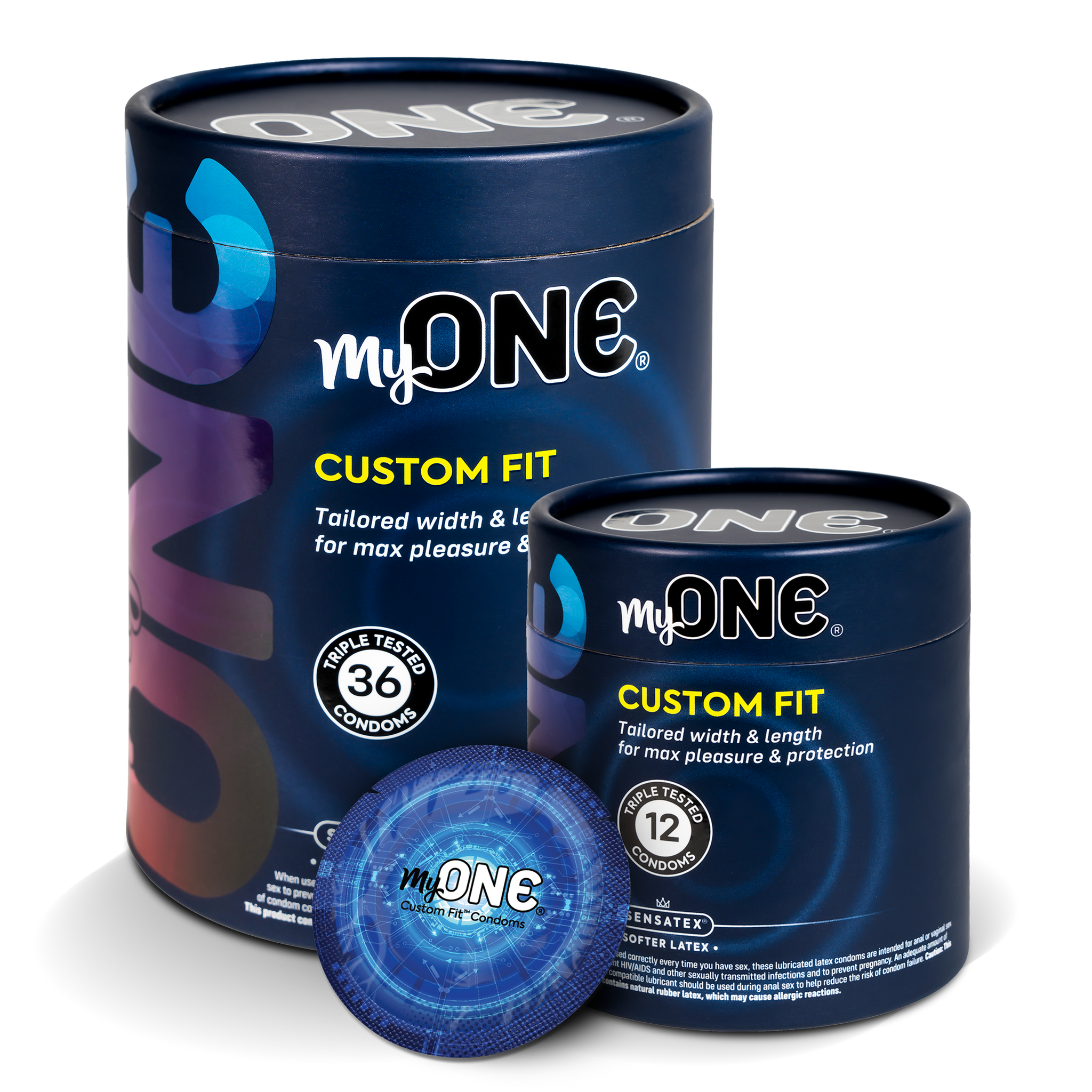 My

ONE® SIZE 55J MY CUSTOM FIT® CONDOM (FORMERLY D11)

MyONE® Size D11 Custom Fit Condom

is rated out of

5

by

128

.
Product Details
✓ 10 lengths and 9 widths = one perfect fit for you.

✓ Made with advanced Sensatex® softer latex. Hyperthin & extra lubricated.

✓ Triple Tested. Reservoir tip.

✓ Free USA shipping.

✓ One-time purchase or subscribe & save.
✓ First-time customer? Find Your Fit (MyONE FitCode), and then follow the prompts to get a sample kit so you can confirm your size before you buy.
✓ We recently updated our FitCodes. Learn more.
Think all condoms are the same? Think again.
We spend every day trying to make condoms better.
Hundreds of Designs
MyONE® condoms feature a variety of wrapper designs.
Unique Latex Formula
Sensatex™ is softer than other forms of latex. Softer latex stretches and moves with the body, for a smoother and more comfortable experience.
Advanced Quality Testing
Every myONE® condom is electronically tested for safety, and every batch is vigorously tested to surpass the highest worldwide testing standards.
Rated

5

out of

5
by
James1980
from
WOW
I've been trying to find a condom that made sex feel good for about 2 decades now. Last night after I slipped on a perfectly fitting One condom I had the best sex with one that I've ever had. The only complaint I have at all isn't about the actual condom, but the wrapper. While fumbling in the dark it's very hard to feel for the precut slit on the circular wrapper to know where to open it. As any man knows, "time is of the essence!" when putting on a condom, so any design change you could make to make feeling for that tear location easier would make these hands-down the best condoms on the market. Cheers!
Date published: 2021-01-07
Rated

5

out of

5
by
Tyson
from
Fit kit ruler translates to an accurate size. Great concept all in all.
Date published: 2017-11-04
Rated

5

out of

5
by
Tim
from
Very happy with the fit of the condom and will recommend to a friend
Date published: 2017-11-06
Rated

5

out of

5
by
Christopher
from
I've experimented with different types of condoms that were available offline, but nothing felt good to me. Hearing about your services blew my mind, I wish I knew about it earlier. Since my job involves custom-fit work for my customers, I can't believe custom-fit condoms didn't come across to me. Will recommend you all to my friends and I will be continuing business with you all.
Date published: 2018-07-20
Rated

5

out of

5
by
macpackpr
from
Fantastic
I bought My One because regular condoms squeezed and removed sensation, but magnums were too big (I had only ever tried Trojan products). Now that I use these I'll never be able to use a different condom. Why on earth would I use a condom that's not specifically custom made to fit me. Once I get going using it, after about 30 seconds, it literally feels like nothing is there, to the point where the first several times I actually checked throughout to make sure it was still on.
Date published: 2020-04-10
Rated

5

out of

5
by
Samuel
from
Perfect fit, sex feels a lot better, because they're finally big enough. Lube on the condom is perfect too!
Date published: 2017-08-16
Rated

5

out of

5
by
Justin
from
Tried many condoms and these are the first ones to not kill my boner. Perfect!
Date published: 2018-01-02
Rated

5

out of

5
by
Ciro
from
Condoms have always been uncomfortably tight and never went down for enough, bad for me because I lacked sensation, bad for my partners because they always find it uncomfortable to have the hard rolled ridge of the condom repeatedly going in and out of their vaginas. I have already recommended them to my twin brother (who I know has the same problems), and I plan to recommend them to some female friends, as well.
Date published: 2018-01-28