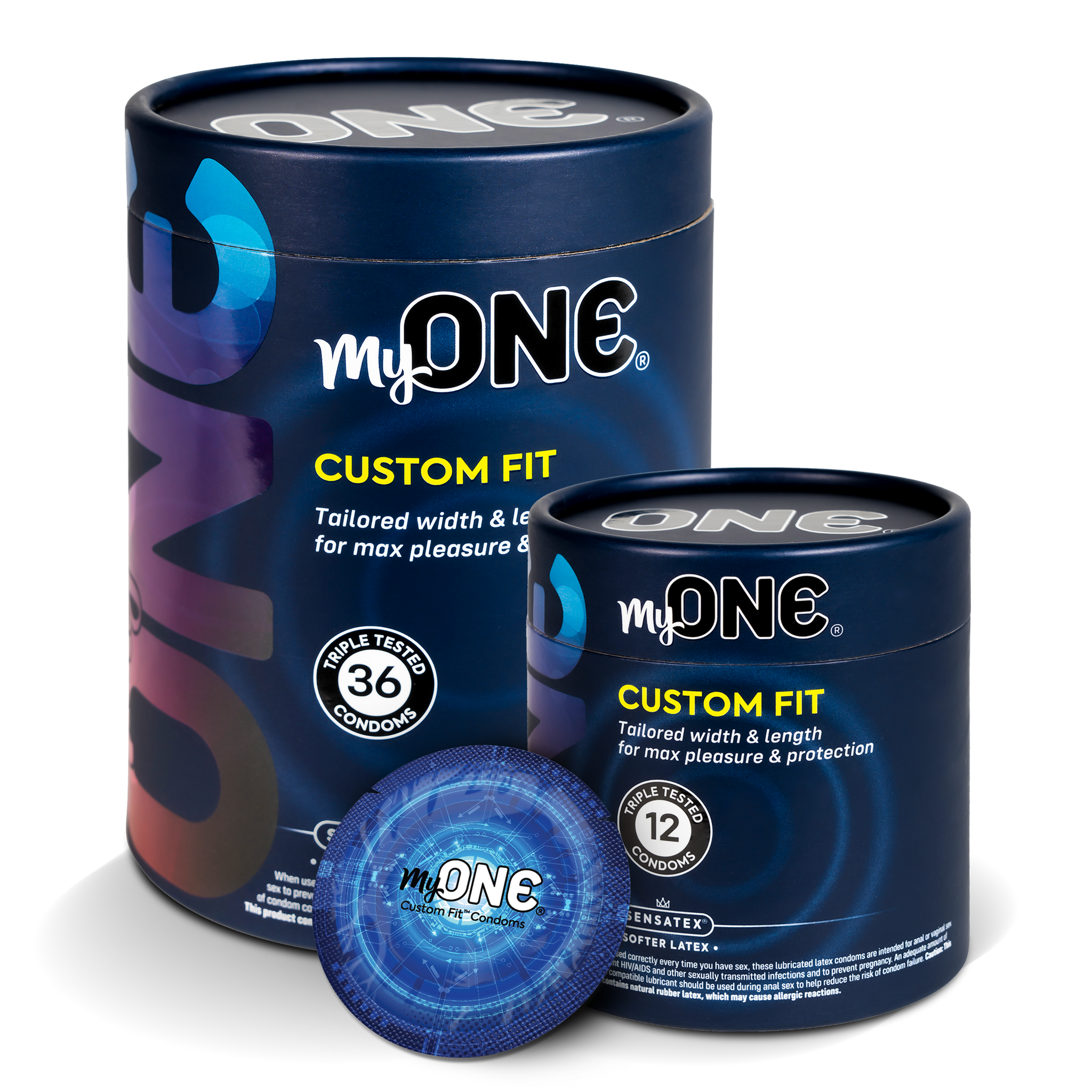 My

ONE® SIZE 64F MY CUSTOM FIT® CONDOM (FORMERLY M22)

MyONE® Size M22 Custom Fit Condoms

is rated out of

5

by

48

.
Product Details
✓ 10 lengths and 9 widths = one perfect fit for you.

✓ Made with advanced Sensatex® softer latex. Hyperthin & extra lubricated.

✓ Triple Tested. Reservoir tip.

✓ Free USA shipping.

✓ One-time purchase or subscribe & save.
✓ First-time customer? Find Your Fit (MyONE FitCode), and then follow the prompts to get a sample kit so you can confirm your size before you buy.
✓ We recently updated our FitCodes. Learn more.
Think all condoms are the same? Think again.
We spend every day trying to make condoms better.
Hundreds of Designs
MyONE® condoms feature a variety of wrapper designs.
Unique Latex Formula
Sensatex™ is softer than other forms of latex. Softer latex stretches and moves with the body, for a smoother and more comfortable experience.
Advanced Quality Testing
Every myONE® condom is electronically tested for safety, and every batch is vigorously tested to surpass the highest worldwide testing standards.
Rated

5

out of

5
by
Jon
from
FINALLY! Something that fits my normal length and above average girth. I either had purple rings for days after sex, or wore magnums and looked like a tool with a shriveled up condom at the base. Third option was none at all, which in some situations could have been risky.
Date published: 2017-11-14
Rated

3

out of

5
by
Josh
from
They felt really thick compared to other name brands I happen to buy from the store in hurry. The custom fit was nice- but doesn't help when you can't feel anything.
Date published: 2017-11-17
Rated

2

out of

5
by
dillon
from
None of the sizes fit well enough - thought we had a good match but then it ended up being too tight and the size up was too loose
Date published: 2017-12-14
Rated

5

out of

5
by
James
from
Well made product and all of the different sizing options to make sure you get the right size.
Date published: 2018-11-01
Rated

5

out of

5
by
Edgar
from
It's really simple and they work great. I hate traditional one size fit all
Date published: 2018-01-19
Rated

4

out of

5
by
Daniel
from
Can't say it's something that comes up in conversation very much and I've only tried one out of the sample pack so far. But I love the concept and never knew before how wrong the size was on previous condoms I have used before.
Date published: 2017-11-22
Rated

5

out of

5
by
Gregz
from
Best condom I've hsed
Super happy I decided to try this. Being able to get a condom that isn't right and fits perfect is a life changer, it literally feels so much different and I'm So happy I tried this.
Date published: 2020-01-28
Rated

5

out of

5
by
Jeremy
from
The availability of wider circumference is EXTREMELY important. I've been a customer since the days of using A Few Bucks FWD and TheyFit. THANK YOU!
Date published: 2018-03-19