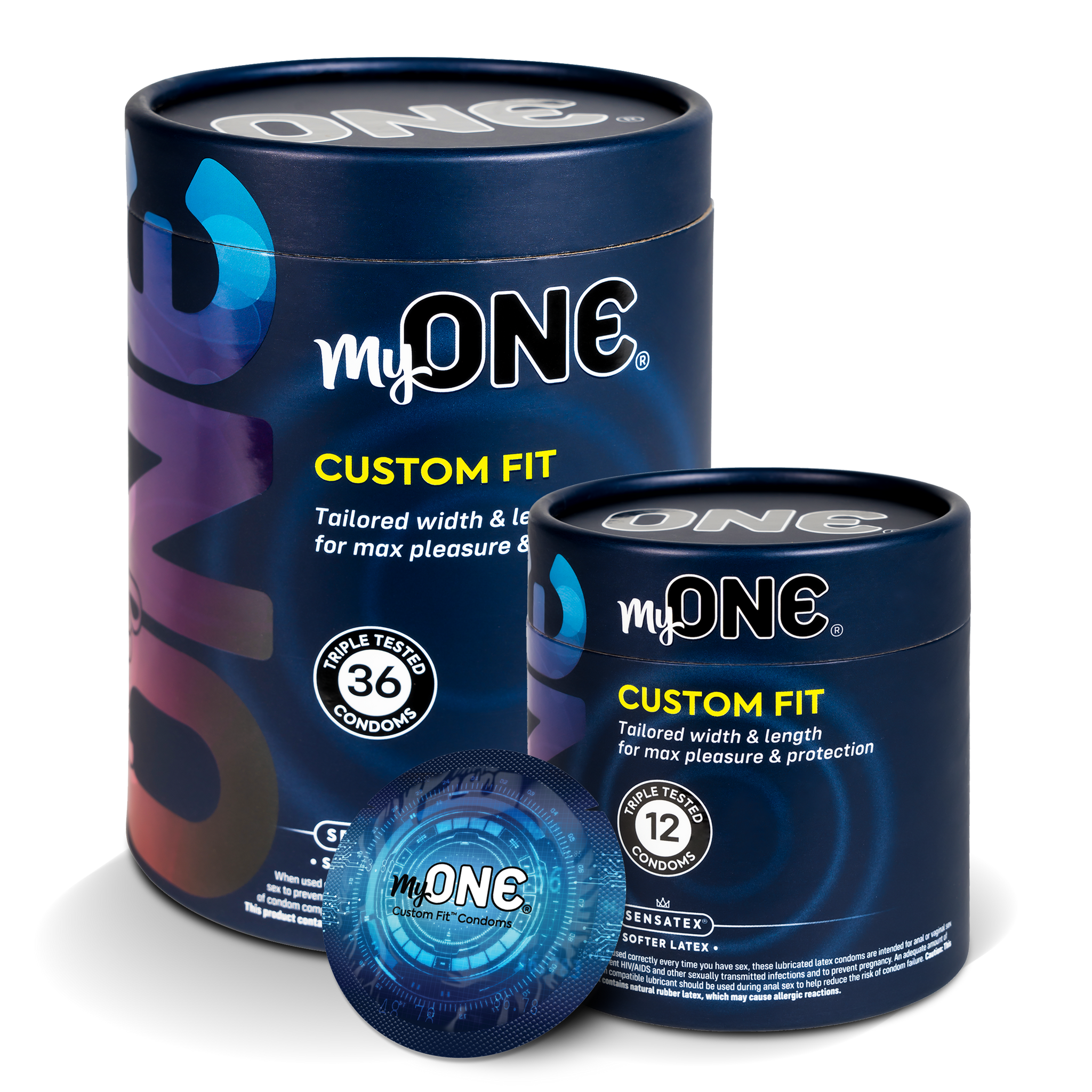 My

ONE® SIZE 64H MY CUSTOM FIT® CONDOM (FORMERLY N22)

MyONE® Size N22 Custom Fit Condoms

is rated out of

5

by

165

.
Product Details
✓ 10 lengths and 9 widths = one perfect fit for you.

✓ Made with advanced Sensatex® softer latex. Hyperthin & extra lubricated.

✓ Triple Tested. Reservoir tip.

✓ Free USA shipping.

✓ One-time purchase or subscribe & save.
✓ First-time customer? Find Your Fit (MyONE FitCode), and then follow the prompts to get a sample kit so you can confirm your size before you buy.
✓ We recently updated our FitCodes. Learn more.
Think all condoms are the same? Think again.
We spend every day trying to make condoms better.
Hundreds of Designs
MyONE® condoms feature a variety of wrapper designs.
Unique Latex Formula
Sensatex™ is softer than other forms of latex. Softer latex stretches and moves with the body, for a smoother and more comfortable experience.
Advanced Quality Testing
Every myONE® condom is electronically tested for safety, and every batch is vigorously tested to surpass the highest worldwide testing standards.
Rated

4

out of

5
by
David
from
These are some of the best condoms on the market. High quality and customized to the buyer. Plus, the option of purchasing a sample pack is very much appreciated. My one caveat has mostly to do with the shipping of the products, in that I never received a tracking number for my package. Not a huge issue; it just would've been nice to know when my purchase was going to arrive. All in all, very satisfied with my purchase and will be back again in the near future.
Date published: 2017-12-11
Rated

5

out of

5
by
Bill
from
Great fit! I have all the girth but only above average length so N22 condoms are very comfortable!
Date published: 2018-02-08
Rated

5

out of

5
by
Anonymous
from
Perfect fit!
I'm thick and Magnum XL condoms were too tight. This has been a major game changer and the condoms fit perfectly. It's nice to not feel like my circulation is being cut off.
Date published: 2019-07-22
Rated

5

out of

5
by
Kolby
from
Never in my life have I had the pleasure of wearing a condom that not only fits properly, but doesn't leave me in excruciating pain or worrying about going unprotected and suffering the possible consequences (thanks Goodness there haven't been any). Now, I can say that I've found the condom I've been looking for all of these years (size N22 to be precise) resulting from the research & labors enacted by this fine, fine company. My measurements resulted in an O22 sized prophylactic, but when I received the sampler package, and tried the O22 and the N22, the latter fit like a dream. I didn't bother with the one size lower than O22 for obvious reasons, so, I gave it away to a friend and advertised it as the best condom he'd ever use. It's just simply that; the best condom you'll ever use.
Date published: 2017-08-31
Rated

5

out of

5
by
Daniel
from
I've never had such a perfect fitting condom before. Not only was it the perfect length, but also perfect in girth so it didn't slip around or move at all, yet somehow it wasn't tight in the slightest. I would highly recommend myONE condoms to anyone who hates wearing condoms because they don't fit right. Everyone should be able to enjoy sex while also being protected.
Date published: 2018-12-12
Rated

5

out of

5
by
Louie
from
Finally a Condom that fits right!
I ordered a sample kit just to see if they actually fit well and that I measured right, and sure enough it was perfect! I ordered a box the next day. I had never been able to fully enjoy sex with a condom on as it was way to tight. These go on very easy but are still the right size to not slip off. Thank you! I'll never buy other condoms again.
Date published: 2020-12-15
Rated

4

out of

5
by
Anonymous
from
The customer service was great, but the product just didn't work out for me. None of the 3 sample sizes were a good enough fit for me to consider buying any. It was always either too tight at the base, too long, or too short and tight all over. All the classic symptoms of a poorly fitted condom, which defeats the purpose of buying the product.
Date published: 2017-08-16
Rated

5

out of

5
by
MisbehavingMind
from
Goes on smoothly and stays in place
Let 's be real: Condoms aren't the most fun, but finally they don't hurt. Typically, condoms don't roll down enough and are quite tight on me. But, these were an entirely different story. These went on so smoothly that I was worried that it would come off during the action. NOPE! Stays in place and feels fine. Highly recommend
Date published: 2020-10-02