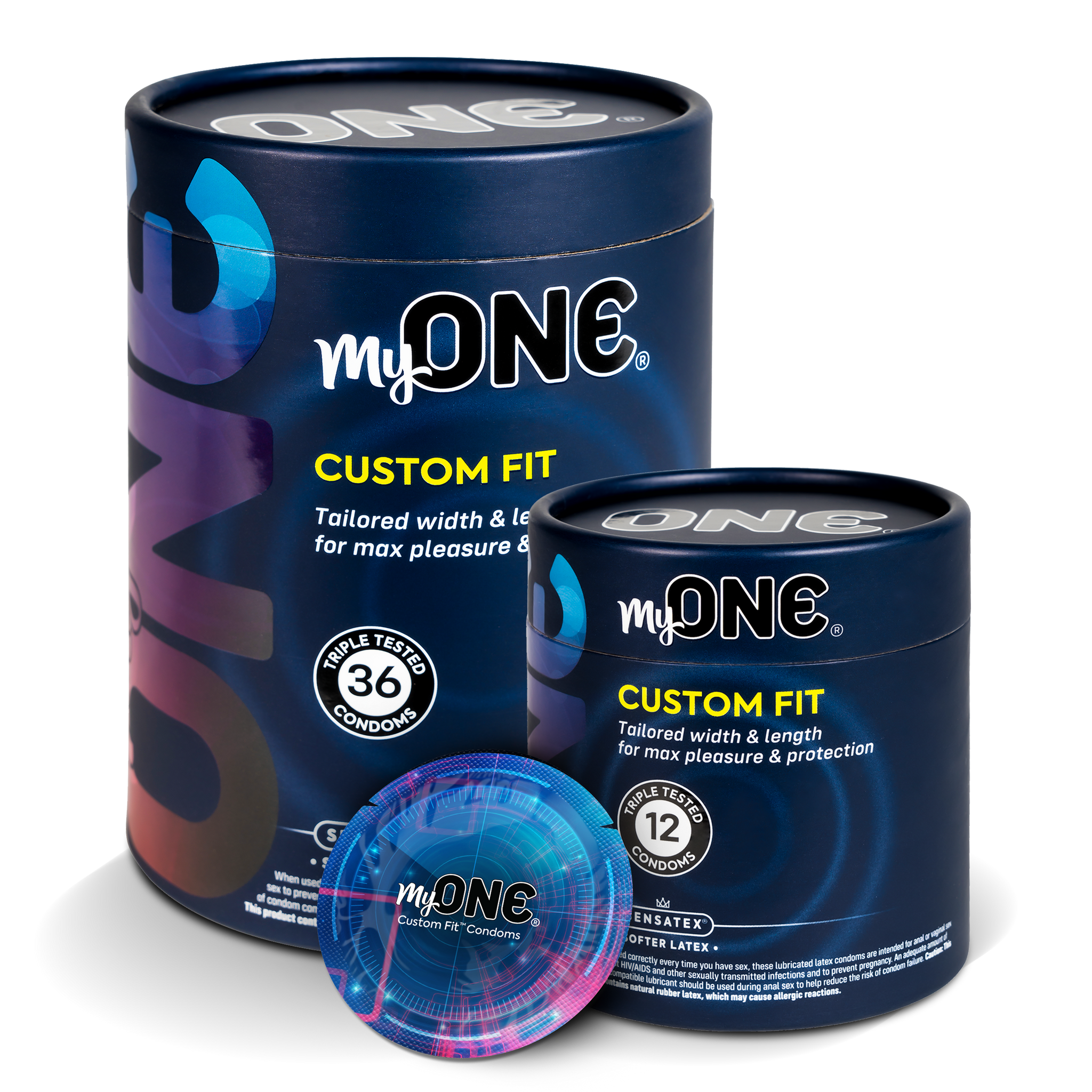 My

ONE® SIZE 64K MY CUSTOM FIT® CONDOM (FORMERLY Z22)

MyONE® Size Z22 Custom Fit Condoms

is rated out of

5

by

124

.
Product Details
✓ 10 lengths and 9 widths = one perfect fit for you.

✓ Made with advanced Sensatex® softer latex. Hyperthin & extra lubricated.

✓ Triple Tested. Reservoir tip.

✓ Free USA shipping.

✓ One-time purchase or subscribe & save.
✓ First-time customer? Find Your Fit (MyONE FitCode), and then follow the prompts to get a sample kit so you can confirm your size before you buy.
✓ We recently updated our FitCodes. Learn more.
Think all condoms are the same? Think again.
We spend every day trying to make condoms better.
Hundreds of Designs
MyONE® condoms feature a variety of wrapper designs.
Unique Latex Formula
Sensatex™ is softer than other forms of latex. Softer latex stretches and moves with the body, for a smoother and more comfortable experience.
Advanced Quality Testing
Every myONE® condom is electronically tested for safety, and every batch is vigorously tested to surpass the highest worldwide testing standards.
Rated

1

out of

5
by
Kylie
from
It's for my boyfriend And I wouldn't suggest something because I can't use them. But my boy does like them a lot. I hate that you guys are wasting packaging especially when you end up buying a lot and it comes in The same thing just multiple times. The packaging is nice but over done when you want to buy a lot. Maybe put them in sleeves or in a box like regular condoms you buy at the store if someone is gonna buy one pack of them then your current packaging style is fine. Just a thought ;) thank you. I also wish you'd guy use latex that are also good for the women's health put the personal fit plus good for the ladies too and you got an even happy customer:)))
Date published: 2018-07-07
Rated

5

out of

5
by
Anonymous
from
Life changing. I have a larger than average penis, and have never been able to find a good fit. XL condoms were never big enough, and for years I've struggled with them. Not being able to find a good fit largely spoiled sex for me, and brought tremendous anxiety into the bedroom. For the first time I have found something that is a good fit. Truly a blessing. PLEASE release a size wider than Z22. Z22 is good, but it is still too tight for my penis size. If this product is released, PLEASE let me know!
Date published: 2018-12-17
Rated

5

out of

5
by
Kibblesnbits
from
They actually fit!
Throughout my entire young adult and adult life, I've always had issues with finding a condom that fits. When I was able to put on "large" condoms I could purchase at CVS/Walgreens, they were still so constricting, I couldn't continue the night. As a result, my choices were to abstain or risk STI/Pregnancy with partners. For the first time in my life, I can be with a partner and not have to stress about STI/Pregnancy afterward. Plugging in the right measurements brought me to a Z22 Condom that became the first to ever fit me comfortably. I highly, highly recommend.
Date published: 2020-07-13
Rated

5

out of

5
by
Rebecca
from
Number one for me is the alternative choices in fit from what is widely available, which is generally just longer, not actually bigger all around. Some men "don't like condoms" and don't want to wear them for the women in their lives because they have never worn one that actually fit them well. After trying the sample, he said the My One Condom was "Sailor-language epic!" Thank you for ending arguments about unprotected sex versus protected sex!
Date published: 2018-10-20
Rated

5

out of

5
by
Anonymous
from
Fits perfectly, no breakage
After repeatedly measuring myself to be sure, I sent MyOne my dimensions and got a shipment of their condoms a few days later. I've had a problem for a long time with being able to smoothly roll condoms down, as well as them sticking to my skin in a way that killed sensation. My custom fit ones, however, have truly been impressive in solving those problems. Despite the condoms being a pretty average thickness, my level of sensation during sex was noticeably improved versus most other brands. I will probably be purchasing again, and I have no real complaints. What WOULD be better is the option to buy thinner varieties for more heat transfer, or a choosing the lubricant type. Those features would make me a definite repeat customer, versus a "mostly maybe".
Date published: 2020-01-12
Rated

5

out of

5
by
Bob K
from
Finally, No more struggling to get it on!
I always had trouble getting condoms large enough that would be able to get started unrolling over my larger diameter. Other larger condoms were like trying to put on an unforgiving rubber O-rings. Ouch! These MyOne Size condoms are a perfect fit. I did try three different sizes of MyOne Size condoms. I selected the one size that was perfect for me just snug enough to be safe, with no loss of feeling, and a breeze to put on. They fit like a glove. These condoms slide smoothly over the top and unroll easily without jamming from top to base. It almost feels orchestrate or designed to wrap me ease. The amount of lubrication is just right and I can't even tell I have them on. Amazing! These condoms stay snug until ready to be removed. I love these condoms.
Date published: 2019-02-18
Rated

5

out of

5
by
Leroy
from
Big Dick? No problem!
For years I have had issues with tight condoms for a thick and long penis. I would get a permanent ring around my cock from them being too tight. These condoms are a God send! Perfect fit and no cut off to the circulation. Trust me when I say this, please give this a shot. The fact they allow you to try two condoms for only $2 is definitely worth it. Just make sure you set up a chance to try them both out with your partner Overall, I love this product and have been recommending it to all my friends
Date published: 2019-07-10
Rated

5

out of

5
by
tsmith154
from
Didn't know what I was missing
I always thought condoms were supposed to be that tight and never understood how anyone could feel anything with them. Or even get fully erect with something restricting them so much. I followed the measuring instructions, ordered, and received the items fast, I will never use anything else. Now I can feel, not everything of course it is rubber but I am fully erect now and both of us are having a much better experience
Date published: 2020-05-23