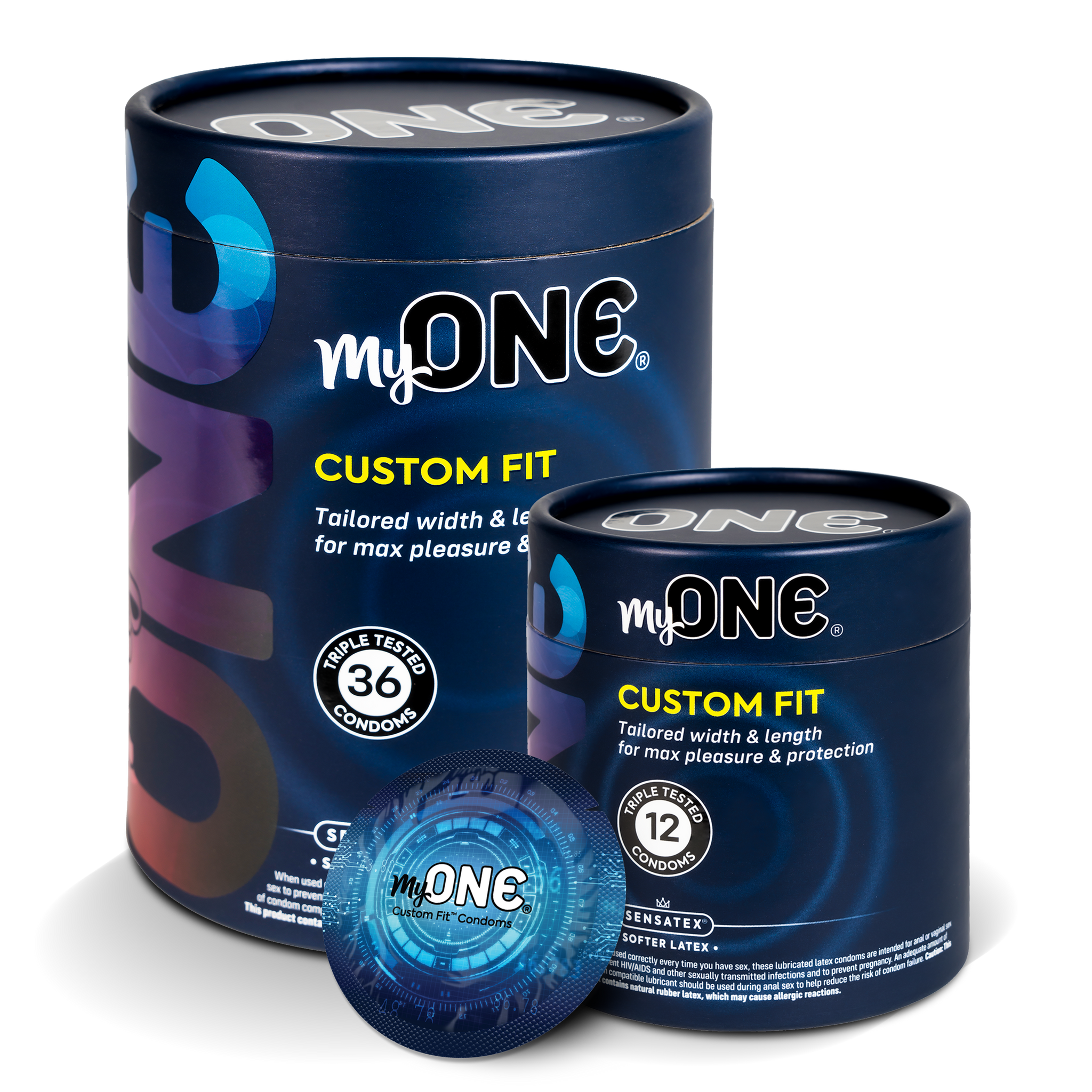 My

ONE® SIZE 64L MY CUSTOM FIT® CONDOM (FORMERLY U22)

MyONE® Size U22 Custom Fit Condoms

is rated out of

5

by

125

.
Product Details
✓ 10 lengths and 9 widths = one perfect fit for you.

✓ Made with advanced Sensatex® softer latex. Hyperthin & extra lubricated.

✓ Triple Tested. Reservoir tip.

✓ Free USA shipping.

✓ One-time purchase or subscribe & save.
✓ First-time customer? Find Your Fit (MyONE FitCode), and then follow the prompts to get a sample kit so you can confirm your size before you buy.
✓ We recently updated our FitCodes. Learn more.
Think all condoms are the same? Think again.
We spend every day trying to make condoms better.
Hundreds of Designs
MyONE® condoms feature a variety of wrapper designs.
Unique Latex Formula
Sensatex™ is softer than other forms of latex. Softer latex stretches and moves with the body, for a smoother and more comfortable experience.
Advanced Quality Testing
Every myONE® condom is electronically tested for safety, and every batch is vigorously tested to surpass the highest worldwide testing standards.
Rated

4

out of

5
by
Anonymous
from
My One Perfect Fit are defiantly the best condoms that I have ever used in terms of fit, texture, and lubrication. I use size U22, but they are still too narrow for my 6.5 inch circumference. Unfortunately the size 31 width is not available in the US like it is in Europe due to FDA regulations over concerns of slippage. That's like restricting the sale of large shoes because people with average size feet might unknowingly buy them and accidentally stumble. How much sense does that make, what about people with big "feet". Please continue to petition for the lifting of this archaic regulation as the health and safety of many people depend upon it. Thank you
Date published: 2018-12-17
Rated

5

out of

5
by
Anonymous
from
I've had trouble with condoms just about as long as I've been having sex. Tried Trojan Large, then Magnums, then Magnum XL's - each felt too tight and sex with a condom was uncomfortable, leading to poor erection quality. I tried U22 for the first time last night and the results were incredible. I exclaimed "This is what a condom is supposed to feel like?!" I don't usually write reviews, but feel I owe your company a sincere thank you.
Date published: 2018-12-17
Rated

2

out of

5
by
Latexual
from
Size matters
I bought some of the two largest size condoms, hoping they would accommodate my larger toys, and was surprised to find they are nearly identical in diameter to typical magnum type condoms. Longer, yes, not wider. Broke first try. And I was careful. (please don't kill this review again. You stopped my first effort. Feedback is the best path to improvement.)
Date published: 2019-05-07
Rated

5

out of

5
by
Godric_Raine
from
Best Condom EVER!
As someone who is on the larger size the store bought condoms never fit properly. I've had several different brands break on me during intercourse. These have been comfortable and durable. I'll never buy another brand again.
Date published: 2019-04-18
Rated

4

out of

5
by
V tall
from
Perfect fit
Even the slightest deviation too small or too big was a problem with the extra movement from my foreskin. These are perfect, I haven't had one break and the sensation is comparable to nothing at all.
Date published: 2020-07-17
Rated

4

out of

5
by
Terence
from
I have a larger penis and this is the only condom that fits comfortably
Date published: 2018-06-29
Rated

5

out of

5
by
Robert_WA
from
I wish I had found these a long time ago
I got the sample for my size and immediately fell in love with these condoms. I have spent years trying to find condoms that wouldn't feel like they were strangling me and tear half the time as I put them on. The other condoms that were my favorites before these (Lelo Hex Respect XL) simply do not compare in terms of comfort. I cannot overstate how liberating it has been to have condoms that simply fit.
Date published: 2020-04-28
Rated

5

out of

5
by
Miss A
from
Something Finally Fits!
Before we found this brand, we were using standard "XL" condoms. My poor partner would be in pain later from the constriction, and it made making love feel like martyrdom. U22 has been a great fit; no more pain and discomfort! Thank you MyOne for your custom fits, clever packaging, and for your free trial. It is clear you take pride in quality product.
Date published: 2020-05-07