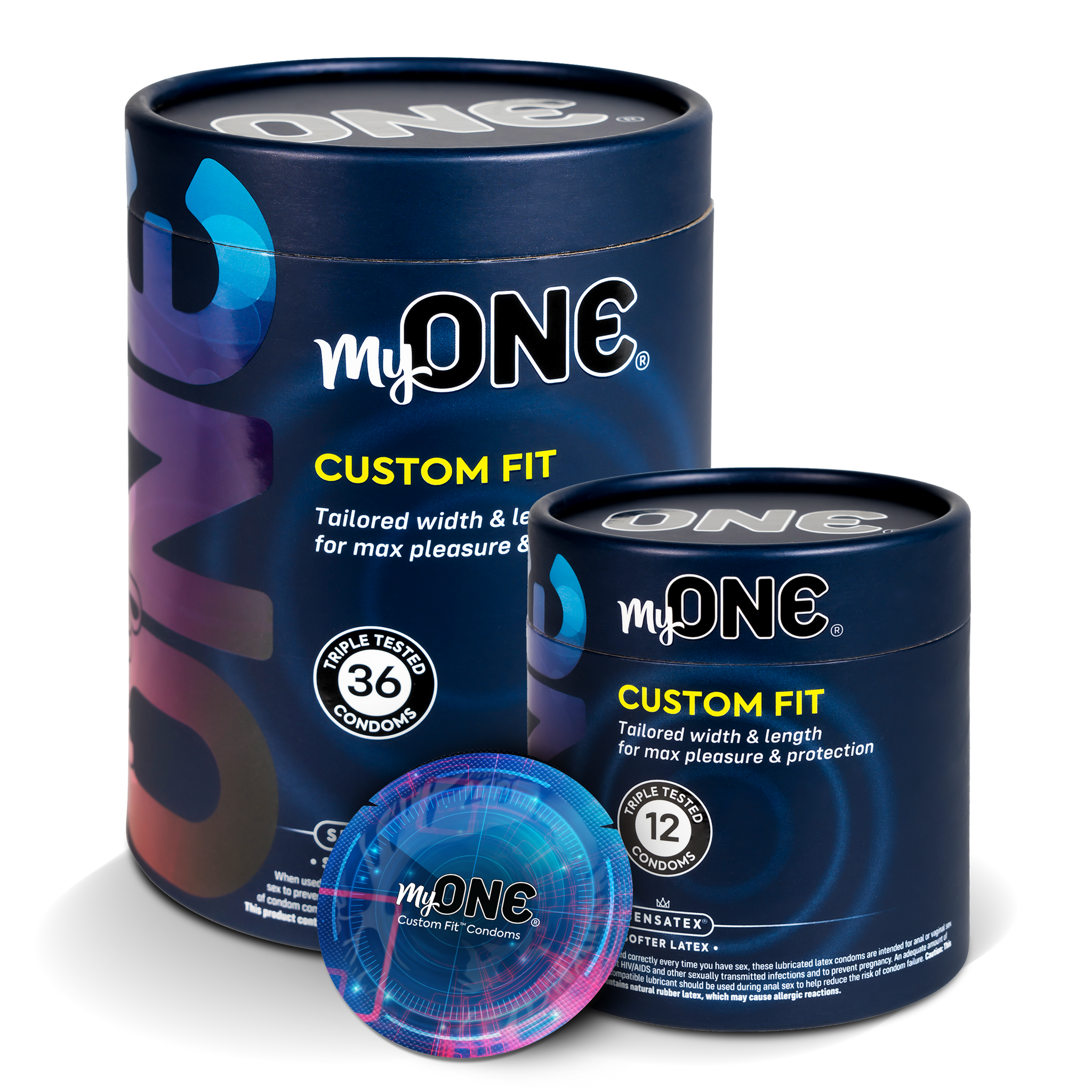 My

ONE® SIZE 64M MY CUSTOM FIT® CONDOM (FORMERLY G22)

MyONE® Size G22 Custom Fit Condoms

is rated out of

5

by

121

.
Product Details
✓ 10 lengths and 9 widths = one perfect fit for you.

✓ Made with advanced Sensatex® softer latex. Hyperthin & extra lubricated.

✓ Triple Tested. Reservoir tip.

✓ Free USA shipping.

✓ One-time purchase or subscribe & save.
✓ First-time customer? Find Your Fit (MyONE FitCode), and then follow the prompts to get a sample kit so you can confirm your size before you buy.
✓ We recently updated our FitCodes. Learn more.
Think all condoms are the same? Think again.
We spend every day trying to make condoms better.
Hundreds of Designs
MyONE® condoms feature a variety of wrapper designs.
Unique Latex Formula
Sensatex™ is softer than other forms of latex. Softer latex stretches and moves with the body, for a smoother and more comfortable experience.
Advanced Quality Testing
Every myONE® condom is electronically tested for safety, and every batch is vigorously tested to surpass the highest worldwide testing standards.
Rated

5

out of

5
by
lilpapa
from
Very roomy...and I like it
I bought these large condoms despite knowing I'm not particularly well endowed. Part of me just wanted to see what they'd be like, and to realize how massive some guys must be, though part of me also worried they might slip. They haven't slipped thus far, but they've been super easy to put on; there is no struggle at all to get them on me---like lightning fast application. I feel *very* roomy in there, which hasn't been a bad thing; they have felt good. I haven't had any bad experience with any MyOne condom, thought there is one that works best, size wise. And while I'll likely stay with my more appropriate size in the future, trying out this huge condom was a lot of fun.
Date published: 2019-11-25
Rated

5

out of

5
by
gjg3
from
A Condom that finally fits!!
I have been searching for larger condomes for years. The girth and length of standard Condoms are ridiculous. I got a sampler from My One and the first one I couldn't tell right away so they sent another free. Well, I now know that the G22 is the one. It's slightly an inch to short which I don't care about, but the girth is perfect. Having this problem over the years led to just pulling out before ejaculation after we had our kids, but now with the G22 we aren't worried. Oh, another thing too!! I'm an Intact Uncircumcised man and these Condoms feel better as well. Thank you. Gennaro
Date published: 2019-05-29
Rated

5

out of

5
by
Trenton
from
These are the only condoms that fit correctly, please release a thin line.
Date published: 2018-02-24
Rated

5

out of

5
by
John
from
Easy to figure out perfect condom fit, and just in case you're not 100% sure, you're given a sample of 3 sizes around your measurement (one size smaller, exact, and one size bigger) for only 2 bucks. I'm on the larger penis size, which is secretly a curse with condoms as it's extremely difficult to find ones that fit. This is the first time I can remember not feeling like I was being strangled to death.
Date published: 2018-07-12
Rated

5

out of

5
by
Anonymous
from
These are absolutely the best condoms I've ever used. I'm completely satisfied. They were far more comfortable than Magnum XLs. They actually made sex more fun because I could last longer but still feel enough pleasure to keep me hard and happy. The branding and packaging are cool as sell. I highly recommend myOne to any guy needing a larger size than typically available.
Date published: 2018-12-17
Rated

5

out of

5
by
L. C.
from
Completely amazed and excited
This the first time I've cum in a condom. The magnum xl were too small and cut off circulation, so although I would last forever, I never felt anything. But the g22s are just wide enough for me to still feel pleasure while protected. Not only that but, the customer service is perhaps the best I've dealt with in years. They stepped up big when my package was lost in delivery. They've made a life long customer and rep out of me. Hell I'm buying stock in them on my next paycheck.
Date published: 2020-12-30
Rated

5

out of

5
by
Trvsmueller
from
Amazing
For all of the guys that complain about loss of sensation from wearing a condom. GET THE RIGHT CONDOM!!! Using the custom fit ONE condom has changed my Outlook on them all together. It is amazing how the correct size condom feels so natural. Follow the measuring instructions and order the best fitting and last condom you will ever wear!!!
Date published: 2019-06-16
Rated

5

out of

5
by
Anonymous
from
Single & Lifelong Batchelor
Simply stated, the Best Fitting, Most Reliable Condom I have ever used, I always think of past sexual encounters that would have been so much more pleasurable for both me and her, if my damn condom fit correctly and was easy to put on. I Highly recommend for the discerning sexual enthusiast!
Date published: 2019-10-18